"This research helps enlighten what responsible behaviour is, what it can be throughout the school years and how to promote it"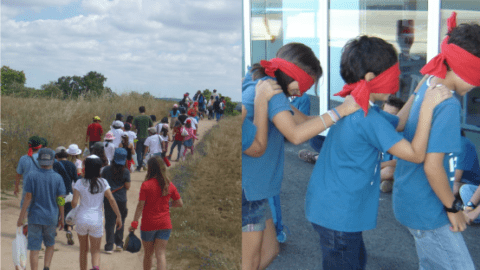 Nuno Archer wins the Stone Soup Award 2019 with the research "Psychosocial development and student engagement in school: a study in basic and secondary education"  
1. This year the Stone Soup Award focused on projects that researched "new educational models with a positive impact on responsible behaviour". Could you tell us what is your project about? 
Thank you very much for this award. I feel especially happy because what won the award was the importance of the research theme. Its main goal is to deepen what we know  about the relation between personal and social development and the school as an increasingly important context for the growth of children and young people.
To better explore the concept of development, the project is supported on the theoretical strength of Erikson's classical Psychosocial Theory and its optimistic stance of permanent growth throughout the life span. This approach is complemented with the 5 Cs model (connection, confidence, character, competence and caring), plus one C for contribution. This model emerges from the work of Richard Lerner and colleagues, in the line of Positive Youth Development. 
To account for the role of school in development, the research works on the construct of Student Engagement in School. Some of the renewed enthusiasm that this construct in gaining in Portugal (visible in research, international studies and congresses), is linked to the work of Feliciano Henriques Veiga, to whom I thank the inspiring work and the quality and close guidance as adviser of this research 
2. Currently a PhD candidate on Psychology of Education, what drove you to approach this research's topic and focus? Any particular experience or instinct?
 Education as a human right encompasses the development of each person's personality and full potential. We know that personal and social development – that specific relation of each person with him/herself, with others and with the world, whose future each one is summoned to build with others – is the biggest treasure that children will take to their adult life as professionals, friends, spouses, parents and citizens. A treasure to be seen in their (hopefully) responsible, attitudes and behaviours.
 School plays a major role in this mission. Educators are daily witnesses of the power that school has in the life and future of many children. But the difference that school can make demands will and com promise with a new understanding of the school mission, that finds resistance in many schools. A mission that integrates academic goals but must go beyond them, that aims for human development and citizenship. A mission that is in the origin of this research.
3. You have worked with 840 students of 6th, 9th and 11th grade, from 3 different types of schools in Lisbon for this research. In general terms, how have you found the children's responsible behaviour relates or differs according to their psychosocial background?
I cannot answer this question yet as I am still analysing data. Nevertheless, it has been a great experience to visit the schools, meet the directors, teachers and students. During this process, two aspects deserve special mention. The first, very motivating, is to feel that educators understand and value the research project. There have been many contributions for which I am truly thankful, namely to the schools, for the kind support and help, to Microsoft Portugal for the important collaboration in the process of data collection, and to Laurent Mendy, my former student and a very skilled computer technician. The second aspect, for which I am also thankful, was students' participation. I enjoyed very much visiting the classes, to present the research, receive suggestions and witness the mixture of concentration and enthusiasm around participation.
4. How does/can your project enhance the responsible behaviour of young students?
One contribution is to help enlighten what responsible behaviour is, what it can be throughout the school years and how to promote it.
We grow up by answering to demanding challenges, in which emerges a specific "way of looking at things", as well as an ability and a sort of predisposition that expresses itself in our attitudes and behaviours. For this reason, it is so important to improve our knowledge about development and about the school's role in development to enhance responsible behaviour. In this research, beside the assessment of outcomes like connection, confidence, character, competence and caring (5 Cs model), responsible behaviour is associated to contribution, that is, the intention to act, as well as the concrete behaviours towards others and community.
5. The award jury has underlined the potential of your research to drive innovative tools to enhance the kids' potential. Could you elaborate on what kind of tools and what can they achieve from a practical point of view?
Reflexion and discussion about school is often focused on constraints. Probably because they are many and because some of them are hard to overcome. Nevertheless, we have good examples of school communities that didn't give up and joined efforts to go out of the school walls and align resources, in order to improve the students' educative opportunities. We can do better but, sometimes, we don't know how. I hope that this research results may raise awareness on school importance for each children's development, that it may motivate educators and allow some practical hints for action. One of these hints, concerning the enhancement of each student potential, is to quit solutions "size fit all", and to invest on tailored strategies and actions that consider not only the specific challenges and constraints of each context, but also, its unique possibilities and potential.
6. What are the main novelties brought by your research in the educational field? Is there anything you were surprised by during the process or once you had the final conclusions?
With some exceptions, most isolated studies have a weak power for novelty and innovation. This power increases with complementary and collaborative work, for which, to be useful, a research must have a sound theoretical and methodological approach. Bearing this in mind, we can value the option for Erikson's Psychosocial Theory, one of psychology's most important human developmental theories, in this approach with a theoretical and empirical update related to adolescence. We can also value the discussion and awareness on psychosocial development on the school mission, as well as opportunity for strategies and action more knowledge driven.
Another contribution may be the defence of equity. Equity defies sameness and demands that we acknowledge that children, schools and contexts are not equal, that they are different and that these differences (needs, challenges, constraints) must be reflected in our educational options.
7. Does the research have a second phase? What are the next steps?
I am a passionate educator. It is this passion and the challenges faced in daily schoolwork that lead me to research. I feel that in order to become a good educator I must be a good researcher, skilled in collaborative search for meaning, solutions, strategies and opportunities. For this reason, I am sure there will be a second phase, probably more practical and aiming to improve actions towards the promotion of human development and citizen education.
Interested in educational issues? Don't miss Pilar Balet's, Stone Soup Communication Coordinator, article on Pioneers Post. 
Stay in touch with Stone Soup's news, trainings and opportunities and subscribe to our newsletter