"Impulso, Prato and Fredericks" three magnificent theatre premieres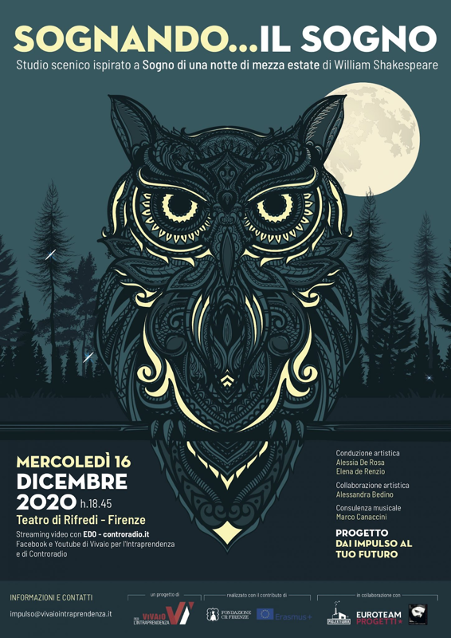 In spite of the current context and the recent months challenging circumstances, THE SHOW MUST GO ON! Against the odds there have been three premiere performances staged with an audience present and streamed online by the two partner projects for ArtE Programme; Projektfabrik and Vivaio during 2020.  After intensive months of social art work with youth in an unemployment situation, these performances were staged virtually, read about them below:
1/ Der Jasager und der Neinsager by the Frederick Ensemble – Germany in September 2020
Der Jasager (literally The Yes Sayer also translated as The Affirmer or He Said Yes). Der Jasager und der Neinsager = He Said Yes / He Said No is by playwright Bertolt Brecht. It is based on the old fable about a teacher leading a hike in the mountains, among the hikers being a young boy whose mother is quite ill. Half of the group, which started to work in March 2020, were people with an immigration background whose language level was very basic. Yet, according to the theatre director, it quickly became clear the importance of theatre work, physical and rhythmic expression, to overcome language barriers, connect people and promote social cohesion. This performance was staged by Projetkfabrik. >>> Read more about the play here.
2/ The Good Person of Szechwan a Prato premiere on 4th October 2020 
Coordinated by project partner Vivaio, another play by Brecht; The Good Person of Szechuan – performed by an Italian group of unemployed youngsters  premiered this in October 2020. The plot summary:  Is it possible to be good to others and at the same time safeguard oneself? We see this play out via the story of the prostitute Shen Te.
A group member gave this account of the rehearsals: "The group started preparations on September 7th, and in just 4 weeks we digested the script – "The Good Woman of  Szechwan " that was not easy, manipulating it like clay to get it  into a comfortable form for the working group. We improvised, we asked ourselves questions, just as Brecht himself does in his work and, from the many moments of sharing, the text that accompanied us on stage was born, keeping in the title that question mark that does not provide answers.The audience is invited to reflect and interact: the goodness that leads to ruin is a provocation, which does not want to discourage but to stimulate. Fast, think about how this is feasible! Is a better end needed!?"
3/ A Midsummer Night's Dream by Willam Shakespeare via Impulso, December 2020
On the 16 of December 2020, also coordinated by project partner Vivaio, another theatre group of young people staged Shakespeare's Midsummer's Night Dream. This play is a comedy by Shakespeare, based in Athens and it consists of several subplots that revolve around a marriage. According to Vivaio, the Impulso project was a training in resilience and anti-fragility for the participants. The structure of the course sought to "shake up certainties" and have a strong emotional impact on the young participants. Despite all the constraints during 2020, the goals of the project were achieved, to strengthen the participants' skills, enlarge their network, help them to plan a strategy for active job search, reactivate their motivation and make them resilient.  You can see other performer photos and images here>>
In closing – Social Art itself is a provocation, trying to find a bridge between art and life, bringing into life the rules of art and, in art, the continuous changes that happen in life. Moreove, during 2020, a year of many change, bringing new rules, new ways of working, new ways of relating, new limits and new possibilities for the construction of a theatrical performance. We have accepted the challenge, we have sought, together, resources and solutions, we have continued to believe in the importance of art as a fundamental tool for personal growth, self-knowledge, awareness and well-being.
>> Keep up to date on the ArtE project by visiting the blog site here.